Can we talk about how awesome my newest manservant is?
Why yes, yes, we can. Because this is my blog and I say we can.
That's Rick Castle. Due to his grammar-loving ways and all-around awesomeness, he's got the job.
I think this preview pretty much sums up Castle's awesomeness:
CLICK IT, CLICK IT GOOD
. Go on. You know you want to.
Yeah. Move over, Detective Beckett; Castle is mine manservant. He'll share duties with Warren Cash (once we, uhm, do some more mitochondrial tweaking there).
Tangentially-related but also noteworthy: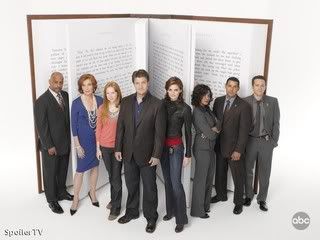 Third from the right, if you're one of those poor saps who doesn't watch
Castle
. Her name is Lanie and she's the ME for the show. And she is approximately 1000 times more awesome than AG's Lanie, let me assure you of that.