Top of the Irish to you.
I don't even know what that means. But I'm half-Irish, you know, so I'm talking the talk and walking the walk in my ass-kicking green boots. That's right, green ass-kicking boots. Never let it be said that AJ isn't fashion forward and color coordinated.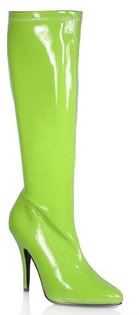 Also, I dyed my hair green for the day.
All
of my hair. No pics of that.
Anyway, I'd like to take this solemn Irish occasion to address some concerns related to the other half of my ancestry. Because I'm half-Japanese, you know. And right now, I'm celebrating St Patrick's Day in Japan. This sort of sucks, because there's no green beer and also, the nation of Japan has just experienced the worst natural disaster since Charlie Sheen...but more about him later. Just in case you are in denial and have your head buried in...whatever...
an 8.9 magnitude earthquake hit Japan last week approximately 250 miles northeast of Tokyo, causing a tsunami that resulted in incomprehensible destruction in northern Japan and has precipitated a potential nuclear disaster.
I've been called to Japan because of my expertise in disaster relief, seeing as how I survived my own AG collection and gone onto bigger and better things. That plus I'm half-Japanese, you know.
Thus I'm here to tell you people how you are going to help Japan in its hour of need. What you need to do is this: put down the green beer for a couple seconds and go donate money to each of the following organizations. You need to do this by midnight tonight, and I've got all AG dolls on high alert to make sure it happens. So don't wimp out...or else. I'm half-Japanese, you know.
Salvation Army
** Text the words Japan or Quake to 80888 to contribute $10 to disaster relief efforts. The donation will be charged to your next phone bill.
** Call 1-800-SAL-ARMY (725-2769) or visit www.disaster.salvationarmyusa.org.
Red Cross
** Text REDCROSS to 90999. The text sends $10 to the Red Cross and charges the money to your next phone bill.
** Call 1-800-RED-CROSS (733-27677) or visit www.redcross.org and donate to Japan Earthquake and Pacific Tsunami relief.
International Medical Corps
** Text MED to 80888 to give $10 to International Medical Corps and learn about other ways you can help medical teams provide support and health care.
Lady Gaga Prayer Bracelet
What? My close personal friend Lady Gaga has designed a $5 "We Pray For Japan" Wristband and it's for sale right now on her website, with all proceeds going to tsunami relief efforts. You can also give an additional donation, which you'd best do because it's not wise to piss off Lady Gaga. Click
HERE
for that.
Facebook Global Disaster Relief Page
Yeah, this one is for you people who play those boring Facebook games and want your time to actually, you know, be put to good use. You can donate money by purchasing virtual goods in CityVille, FrontierVille, FarmVille and those other crap games, with the objective of raising $2 million for Save the Children's Japan Earthquake Tsunami Emergency Fund. Click
HERE
to find out more about that.
There. Now you people on Playthings know why I've not been commenting on your pervy threads comparing my underwear to Molly's (WTF? And really, what makes you think I actually wear underwear? I'm half-Irish, you know.) or correcting your pathetic grammar and spelling (because that's a lost cause anyway). Clearly I have more important things to do than babysit you lot. And also, in case you haven't noticed, you cannot evoke, provoke, or summon me by clicking your heels and sassing with faux-chatspeak in your posts. In fact the harder you try, the more pathetically attention-seeking you appear to be. Seriously, do I
look
like your first grade teacher? I'm half-Japanese and half-Irish, you know. Get it straight, people: I choose the place and time of my apparitions, not you. Indeed, given my humanitarian mission right now, I scoffed at your shameful presumptions that I've nothing better to do than recover from Mardi Gras, get in fighting shape for St Patrick's Day, plot for April Fool's and party with Charlie Sheen.
Because let me tell you about Charlie Sheen. Charlie Sheen is my Sworn Enemy. We had this Thing, last summer when he was in between pr0n stars and wives, wherein I allowed him to join the Entourage on a trial basis. That didn't last long. Two and a Half Men? Yeah, well, Charlie's less than half a man, if you know what I mean. And also, he's a thief. I was working on a performance art piece at the time called Winners that featured me and Jiggy as a pair of star-crossed lovers masquerading as a half-Japanese, half-Irish goddess and a Vatican assassin warlock. We effortlessly and magically converted tin cans into pure gold and lobbed violent torpedoes of truth on a daily basis. We had magic and poetry in our fingertips most of the time (and this includes naps) and only rarely needed to dine on llama blood to replenish our strength. All the other gnarly gnarlingtons' lives were shameful train wrecks filled with blind cuddly puppies, but we defeated earthworms with our words...and you can only imagine what we could have done with our fire-breathing fists.
So you see, in a funny way, I'm responsible for Charlie Sheen. Because that bastard Carlos Irwin Estevez stole my high concept and is using all my best material! Rest assured that I'm not going to let this pass. I'm busy in Japan but I've got Cousin Antonin on the case back home. I had to get in touch with him anyway last week for his 75th birthday. I called him up and shouted obscenities at him. He knew it was me; it's an
old family tradition
. So yeah, I called in some favors and Cousin Antonin will take care of Carlos for me. And if he doesn't, Righteously Bald Undead Yul Brynner is on the job. Because Charlie Sheen, he's my Sworn Enemy, and we all know what happens to my sworn enemies.